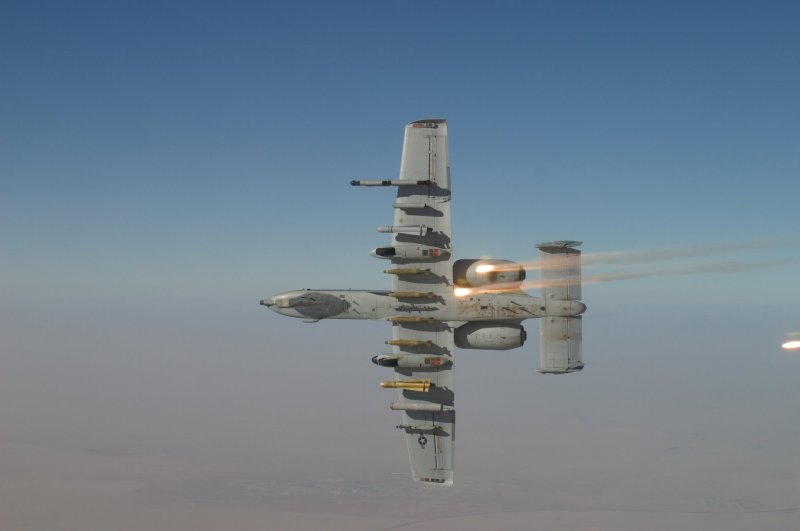 Photo source / credit: 111th FW (Pennsylvania ANG)
A-10 of the Michigan ANG dispenses flares over southern Iraq during Operation Iraqi Freedom
East Coast "Hog Drivers" Are Here For The Long Haul
by John Sponauer

Published in the November 2004 issue of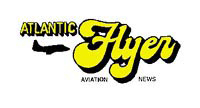 The original Atlantic Flyer article can be found here during November 2004
They often aren't heard, but to careful eyes on the east coast, a formation of A-10 Thunderbolt II's, or 'Warthog,' is not uncommon overhead. The Atlantic seaboard is home to no less than five A-10 units, and with the total A-10 inventory reduced sharply from its peak, a large percentage of this unique aircraft are locally based.

These have proven to be some of the USAF's most experienced, and more than 110 Hogs of the 103rd FW (Connecticut ANG), 104th FW (Massachusetts ANG), 175th Wing (Maryland ANG), 111th FW (Pennsylvania ANG), and the 23rd FG (Pope AFB, North Carolina) are pushing to new limits, with ambitious future plans.

Given its history, it's ironic that the A-10 has never flown the mission it was specially-designed for; low-level, daytime, anti-armor attack in Europe. During Operation Desert Storm, A-10 crews operated at medium- and high altitudes for much of the "air war," performing deep interdiction, nighttime attack, and "Scud Hunting." Over the Balkans, A-10's coordinated airstrikes as Forward Air Controllers.
The latest chapter in the A-10's history was Operation Iraqi Freedom. East coast "Hog drivers" provided close air support (CAS) for the march to Baghdad and participated in secret operations over western Iraq. The success of the former reinforced it as the world's premier CAS aircraft; the latter served as testament to its flexibility.

In early 2002, rumors circulated among A-10 units that they were destined for Afghanistan; three prepared for deployment. In July, however, members of the 103rd and 104th FW were summoned to Langley AFB for a surprise; they were not going to Afghanistan after all, but instead preparing for a special mission in the looming Iraq conflict. Using a targeting pod called LITENING II, they were to hunt ballistic missile launchers in western Iraq and support special operations there. For an aircraft designed so austerely that it didn't originally have an autopilot or internal navigation system, LITENING was a huge leap forward. It allows pilots to designate targets for laser-guided bombs (LGB), view targets up to 30 miles away through infrared and camera optics, and accurately determine target range and location. The only prior targeting system in the A-10 was the eyeball; its primary weapons, the 30mm. GAU-8 cannon, unguided bombs, rockets, and AGM-65 Maverick missiles.

By fall, two aircraft and key personnel were in Nellis AFB, Nevada. Under cover of night, jets were modified to accept LITENING. There was no manual for doing so, but after a day of running wires and integrating the pod, they were ready to try the new "eyes."


Photo source / credit: 103rd FW Public Affairs
Maintenance personnel from the 103rd FW (Connecticut ANG)
servicing a LITENING II targeting pod on one of the unit's A-10's.
Following successful dry runs at Nellis with special operations, a combined unit of 18 aircraft from Connecticut and Massachusetts deployed in February to a still-undisclosed Middle Eastern base. Col. Fred Miclon, then 103rd Maintenance Group commander and with more than 20 years of experience with A-10's, was one of about 35 advance personnel.

"This was a bare bones, austere location," he said. "Fortunately, the aircraft is pretty rugged, and we worked hard to set everything up. Within about 10 days, we had 800 people supporting us."

When war came, the Hog drivers in the west dropped laser-guided bombs, assisted special operations, and as the situation developed, provided close air support near the dam at Hadithah, Iraq. They flew 3,100 combat hours during 900 sorties, without damage from enemy fire, and became the first A-10 pilots to drop laser-guided bombs in combat.

Lt. Col. John "Guinness" Stout of the 103rd was among them. On the war's first day, he and his wingman, from the 104th, were on a daytime mission to find a threat target when they encountered another.
"I was using my pod to locate our target when [my wingman] looked up and noticed basketball-sized clouds all around. He saw glints on the ground, and quickly realized that he was under fire, probably by 57mm AAA. After offsetting ourselves from the threats, he talked my eyes onto the guns. We used the pod to determine coordinates, received permission to engage, and lased the target."

"I made a pass and 3-4 miles away, pickled an LGB. I immediately did a gut check - 'had I done everything right?' As I rolled away, I could see the bomb in flight, and thought 'Awesome, but there's no way that's going to reach.' But it was a 'shack;' direct hit. Although we had practiced it many times, this was the first actual delivery made by our 'laser/bomber' team."


Photo source / credit: 103rd FW Public Affairs
A-10 from the 103rd FW (Connecticut Air National Guard) over western Iraq
during Operation Iraqi Freedom. LITENING II targeting pod visible on pylon outboard of wheel fairing.


In eastern Iraq, A-10s from Pennsylvania, Michigan, Idaho, Pope AFB, and Whiteman AFB supported the ground offensive with thousands of CAS sorties.

"You didn't really know what each mission would bring, because it usually didn't turn out to be the one briefed," says Lt. Col. "Chip" Eissler of the 111th FW. Based at Kuwait's Al Jaber airbase and later from Tallil, Iraq, A-10 units in eastern Iraq found themselves performing a wide range of tasks.
"Sometimes, we'd be ordered to an open 'kill box' and cleared to destroy anything positively identified as Iraqi military. Other times, we were providing support within yards of friendly forces. Almost inevitably, we'd be requested to check something out for ground forces while we were up. We'd take emergency calls for CAS or combat search and rescue. There were other times that I used binoculars to locate targets for other types of aircraft. Some missions were as far north as Tikrit, and we were flying for seven hours, and others were over downtown Baghdad. And this was going on day and night, every single day. We were expecting to fly 30 missions a day, but there were times we'd do 120."

Eissler said the rapid pace of the ground offensive challenged A-10 pilots.

"Because the ground war moved so fast, objectives rapidly slid backwards and forwards. The Army or Marines sometimes couldn't figure out where everything was, and one of the things we had to relearn was that the 'fog of war' is unbelievable."



Photo source / credit: 111th FW (Pennsylvania ANG)
During Operation Iraqi Freedom, east coast A-10 units from
North Carolina and Pennsylvania flew with other Warthog units
out of Al Jaber airbase, Kuwait

Maryland's 175th Wing had its own task in this time, more than 1,000 sorties over Afghanistan, a mission other Hogs have performed before and since. Today, using the lessons learned from both conflicts, LITENING pods and other modifications have been added across the A-10 fleet.
"The [pod] modification is very simplistic and was easy to complete after lessons learned from the first aircraft," says Lt. Col. Timothy Schuster, commander of the 175th Aircraft Maintenance Squadron. "It's easy to maintain for experienced avionics personnel."

Eissler said that LITENING and the plans to expand the A-10 offer huge potential to the A-10 community, but notes that "The pod isn't the end-all-be-all. It's another tool in the CAS handbag, but there are also still times when nothing beats a pair of binoculars and a map."

The move to enhance the A-10 fleet further is spearheaded by a "Precision Engagement" (PE) program at Langley AFB, Virginia. With a goal of improving the A-10's maintainability, sustainability, and combat capability, PE begins flight-testing this winter.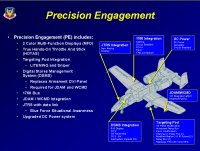 NOT A THUMBNAIL
"The A-10 in 2010 will not be your Daddy's Hog," says Lt. Col. Robert "Mumbles" Silva, an A-10 pilot leading the program with a team of eight and access to A-10 units nationwide. "We're bringing the airplane into the new century."

PE will eventually be applied to the entire A-10 inventory, probably starting with a Guard unit in FY2006. It will turn the A-10A into the 'A-10C,' equipped with dual high-resolution cockpit displays, either LITENING AT or Sniper XP targeting pods, a hands-on throttle and stick, digital stores management system, GPS and wind-corrected munitions, datalink communications, and more. Concurrently, an upgrade to the A-10's turbofan engines, long criticized for performance, is planned, allowing for a 10 percent increase in takeoff thrust, and up to 30 percent at medium altitudes; that translates into 5,000 lbs. of increased payload.

"Everything together will have a synergistic effect," Silva says. "The engines will allow us to ingress above the infrared missile and AAA threat, as well as allow us to effectively employ the [GPS-guided] JDAM and wind-corrected munitions. The data link will digitally connect us to the battlefield, and because we'll be able to transmit targeting data to and from the airplane, we're going to shorten the kill chain. We're replacing a good number of troublesome avionics components, and adding a new portable testing station, which allows us to troubleshoot the system with one hookup. When we deploy, we'll have more aircraft available."

Silva says that while recent combat experiences didn't accelerate the program, the lessons learned solidified the reasons for doing it.

Maintainers like Miclon welcome the changes.

"The Guard is intimately involved in PE," he said. "We see so much improvement that will come from it; the pod alone is an exceptional tool from the pilot's perspective. While the missions today are very different from when we first received the aircraft new, it's still basically a very mechanical airplane. It's going to become a whole different animal."

That animal, long proven in combat, will be gracing east coast skies for many more years to come.


Photo source / credit: 23rd FG, Pope AFB
A-10 from the 23rd FG, Pope AFB, North Carolina, pulling off
of a New Jersey ANG tanker over Afghanistan during Operation Enduring Freedom
---
RELATED A-10 ARTICLES by John Sponauer
Desert LITENING: The 103rd FW in Iraqi Freedom
The A-10 in the 1980's - Q & A: Lt. Col. Andy Bush (USAF, Ret.)
Feature: Hogs in a Hot Peace - The A-10 Since Operation Desert Storm
---